Home Cycling Mountain biking routes
Mountain biking in Richmond Park
The only legal off-road mountain biking route in Richmond Park is the 7.35 mile Tamsin Trail around the edge. Some of the other footpaths/pavements next to the roads can also be used but are not as fun as the Tamsin Trail.
The Tamsin Trail
This perimeter trail is a shared path with walkers and has recently been resurfaced so is easier to cycle on. However, watch out for loose stones on some of the steeper descents - particularly Broomfield Hill down to Robin Hood Gate.
How long does it take to bike around Richmond Park?
It takes between 40 minutes to an hour to cycle around the Richmond Park Tamsin Trail. However, it is worth noting that this is a shared path with pedestrian priority and there is a 10mph speed limit.
There are a couple of steep hills between Kingston and Wimbledon gates.
There are plenty of refreshment stops around the edge in each car park.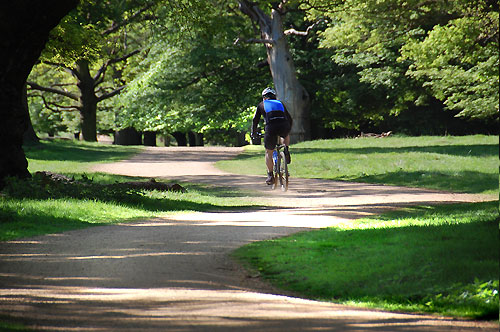 How can I extend my bike ride?
Keen mountain bikers can also link in a nice loop of Wimbledon Common via Robin Hood Gate. Unfortunately, there aren't too many official cycle paths on the Common, but the long climb up the bridleway is good for fitness (especially in winter when it's gloopy mud!).
There is also some good bermed singletrack and bike jumps in Wimbledon Common inbetween the lake and the cemetary. Climb up the hill from the lake (away from the Windmill) to find them.
Additionally, you can cycle along the tow path alongside the Thames between Kingston and Richmond (and beyond!). There is a set of bike jumps and drops near Teddington Lock which can be good fun for experienced dirt jumpers or BMXers.
Ham Common and woods also have some tracks which are good for mountain bikers.
Car-free roads in Richmond Park
There are two car-free roads available to cyclists through the middle of the park.
There is a very flat road linking Ham Gate to Robin Hood Gate (Wimbledon) which forks near the Lawn Plantation refreshments with the option to cycle over the slight hill past White Lodge to Sheen Gate.
Need any new cycling gear or clothing?
Also see road cycling in Richmond Park
Popular biking equipment