Road cycling in Richmond Park
The road around the edge of Richmond Park is about 7 miles (11.25km) long and offers some good sharp climbs as well as some long gradual inclines. Additionally, there are two roads open to cyclists cutting through the middle of the park, past White Lodge.
Which way around the park is best?
Most road cyclists cycle anti-clockwise around Richmond Park to minimise stopping at the 5 mini-roundabouts by the gates.
Good hills in Richmond Park
The main steeper hills in the park are Dark Hill and Broomfield Hill (in between Kingston and Robin Hood gates) and the long Sawyer's Hill between Sheen and Richmond gates which starts as a very gentle incline but gradually gets steeper and steeper resulting in a great workout.
Approximate profile of hills cycling anti-clockwise around the park from Richmond Gate:

It is worth noting that there is a speed limit of 20mph throughout the park with regular police patrols at weekends.
How long is one lap of Richmond Park?
The perimeter road around Richmond Park is approximately 7 miles (11.25km) long and takes in a good mixture of hills, straight flats and corners.
Most road cyclists do between 2 and 4 laps. Some cyclists use laps of Richmond Park as a warm up before heading off to the North or South Downs. You can log your lap times online at www.lapchallenge.co.uk.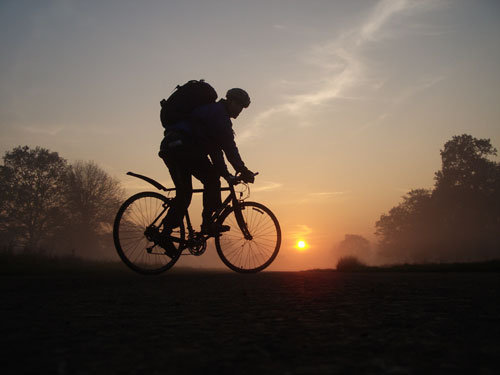 Virtual tour of the Richmond Park road loop
Starting from Richmond Gate, take a virtual tour of Richmond Park using Google Street View:
Jump to another start location:
Map of Richmond Park
Need any new cycling gear or clothing?
Also see Mountain biking in Richmond Park