Home Cycling Hire a bicycle in Richmond Park
Bike hire in Richmond Park, London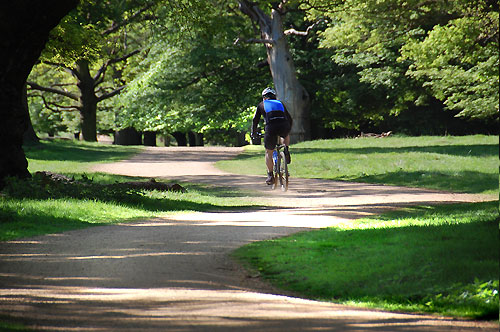 If you want to go cycling in Richmond Park and you don't have a bike, there is only one place to hire bikes in the park and that's through Parkcycle at the Roehampton Gate car park and cafe area.
What bikes are available to hire?
They have a selection of mountain bikes and road bikes to hire as well as a few fun bikes like tandems, electric bikes and various bike add-ons for children.
Get there early though as the bikes can go quickly - especially during sunny weekends as it can be extremely popular.
How much does it cost to hire bikes in Richmond Park?
Prices currently start from £7 per hour for adults during off-peak times and £9 per hour during peak times (mainly spring and summer weekends) but may change so always check in advance through Parkcycle.
Where do I start?
The Parkcycle bike hire shop is right on the Tamsin Trail so just cycle off in either direction to explore the park.

Alternatively, Richmond Cycles in East Twickenham have a handful of bikes (a Gary Fisher Marlin mountain bike and a Ridgeback Metro hybrid bike) that are available to hire if you book ahead or there is a new bike hire place just under Richmond Bridge.
Or, buy your own bike
There are a few good bike shops in the vicinity of Richmond Park, notably Richmond Cycles near Richmond Bridge and Evans Cycles in Kingston.
Otherwise, you can get some very good deals for bikes, helmets and other cycling accessories online at: